Taste the difference over 100 years of experience can make
Baked beans are an American tradition, dating back to the early 1800s. Back then, New Englanders prepared beans in large pots of sauce that cooked for hours in large brick ovens. Slow baking made the beans tender and brought out deep flavors other cooking methods just don't deliver.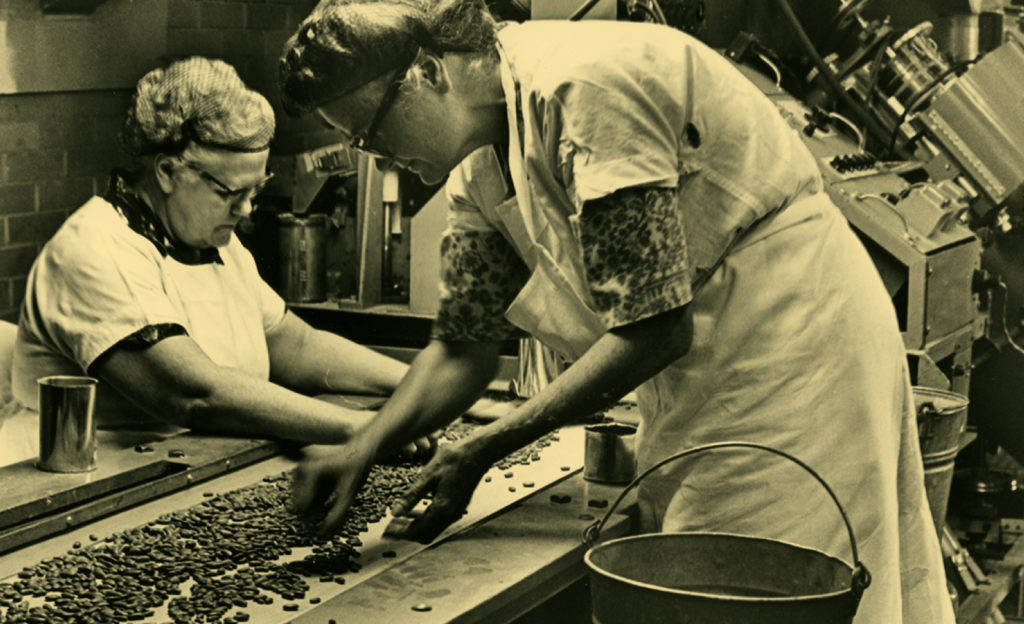 In 1867, George Burnham started his own food canning business. He was soon joined by Charles Morrill, and Burnham & Morrill was born. In 1913, B&M moved from its original location at 13 Franklin Street, Portland, Maine, to its present site on Casco Bay, also in Portland. The B&M facility is seen by thousands of motorists daily and is a New England landmark. In 1965, the city of Portland recognized this and B&M's address was designated "One Bean Pot Circle." Since the company's beginnings in 1867, the excellence of B&M products has been recognized both nationally and internationally, a fact attested to by the numerous medals and awards received over the years from U.S. and world trade expositions.
1867
Burnham & Morrill Company is founded by George Burnham and Charles
S. Morrill. Burnham brought meat and fish packing experience from his
days with Rumery and Burnham, a company he helped establish earlier.
Morrill had been one of Burnham's foremen at Rumery and Burnham. Their
first plant opened on Franklin Street in Portland, Maine (another source
says that this is where the store and offices were established and that
the first plant was, in fact, established at Bucks Harbor, near
Machiasport, Maine). B&M's first products included canned meats,
vegetables and fish. Their offerings included canned roast beef, mutton,
pork, lamb, roast chicken, roast turkey, carrots, turnips, corn and
other vegetables, plus herring, clams and lobsters.
1860s
To meet growing demand, B&M became a distributor of other companies'
foods in addition to packing and selling their own. B&M marketed
their own canned corn, plus canned clams and tomatoes from the Underwood
Company, and canned oysters, peas and peaches sourced from Dunbar of
Philadelphia and Louis McMurray of Baltimore.
1869-1873
Additional packing facilities (primarily for clams and lobsters) were established in the Northeast.
August 1893
George Burnham Jr. received a patent on his corn-cooking machine. His invention is widely discussed at trade association meetings and is advertised in trade periodicals.
1913
B&M built a state-of-the-art four-story cannery in Portland, Maine.
1920s
B&M began experimenting with brick-oven baked beans in an attempt to offset declines in other product lines
1920s and 1930s
After years of development, B&M began selling brick-oven baked beans packed in cans.
1950s
Production capacity for brick oven-baked beans doubled with a post-war surge in baked bean sales.
1960s
Growing national demand for B&M brick-oven baked beans prompted a search for a West Coast operation to increase production and reduce transportation costs between Maine and the West Coast. The Santa Clara Packing Company installed 32 brick ovens and began producing B&M beans in a San Jose, California, facility in 1962.
1970s and 1980s
PET Foods of St. Louis, Missouri, own the B&M business.
1990s
Pillsbury purchased B&M from PET.
March 1999
B&G Foods, Inc. purchased B&M from the Pillsbury Company. Today, B&M still bakes its beans in the traditional manner, in open pots inside brick ovens–a process that gives the beans a firmness and authentic taste far superior to modern cooked-in-the-can "baked" beans.